Forest Summit FS
Unleash that inner thrill seeker and adventurous spirit with the Forest Summit FS, a full suspension, high-end, ebike built with one goal in mind; to give you the ride of your life. A combination of full suspension and fat tires allows this ebike to eat bumps in the trail for breakfast, keeping you and the bike glued to the ground with traction you've never felt before. A long line of 'predecessors' of the Forest Summit FS have come and gone to create the ultimate thrill seeking machine, a true Goliath in a world of Davids.
Pre-orders are available at a special discounted price for a limited time. Bikes are estimated to ship in early June. 
Forest Summit FS
Conquer any terrain with the Forester Bikes Summit FS electric fat bike. This powerful e-bike offers massive 1500 watts of motor power and 10 speed Shimano Deore drivetrain to take you up steep inclines, while its 4.5" fat tires provide superior traction and a comfortable ride on rough trails. The Mozo Air Suspension Fork combined with coil rear shock lockout makes this full suspension design perfect for tackling rugged off roading adventures - complete with Tektro Orion hydraulic disc brakes ensuring fast stopping action when needed! Get ready to hit new heights in biking experiences aboard the ultimate mountain conquering machine: The Summit FS Electric Fat Bike from Forester Bikes.

The Summit FS is equipped with a Bafang Ultra mid-drive motor, one of the most powerful motors on the market. This robust powerhouse delivers 750 watts of nominal power and up to 1500 watts in peak output - allowing riders take even their steepest climbs without breaking a sweat! Cutting edge torque sensors optimize performance by sampling data at an impressive frequency rate of 80kHz, delivering precise control over speed acceleration/deceleration while still achieving maximum efficiency. Despite its remarkable strength ratings and 160 Nm max torque; there's no need to worry about noise pollution – this beast hums along virtually silently.

Pre-orders are available at a special discounted price for a limited time. Bikes are estimated to ship in early June.
Forest Summit FS Key Features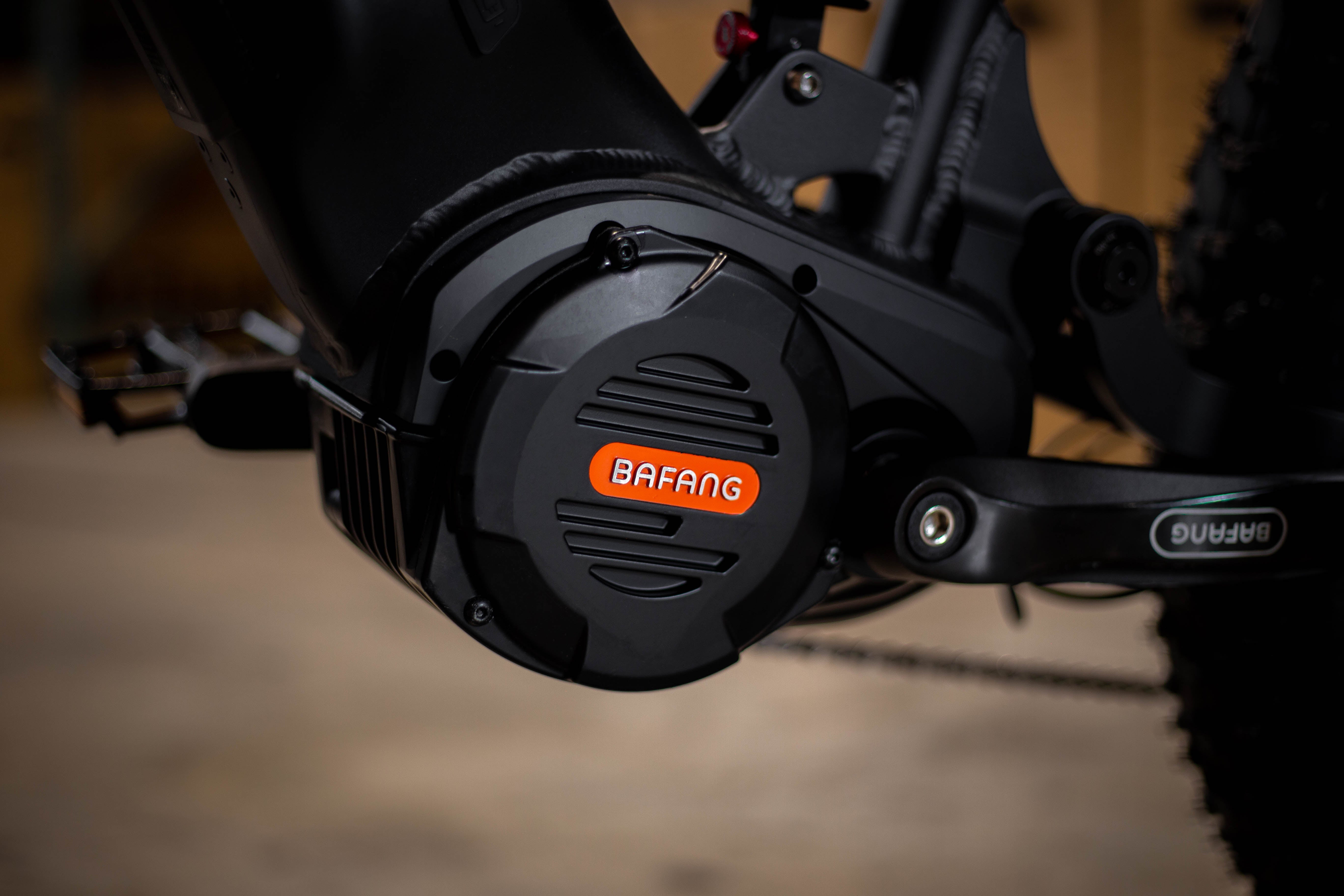 Climb Steep Terrain & Effortlessly Hit High Speeds
The epitome of suspension, traction, and one hell of an exciting riding experience is cranked up to a hundred with our Bafang Ultra Motor. Your adrenaline fueled pedaling plus our most powerful motor will take you on a journey you didn't know a bike ever could. Get ready for a heart-pumping battle to conquer wind, terrain, hills and any other obstacle in your way. With a maximum torque of 160Nm and up to 1500 Watts of peak power output, the M620 will definitely get the heaviest loads accelerated on even the steepest incline thanks to the massive torque this motor provides.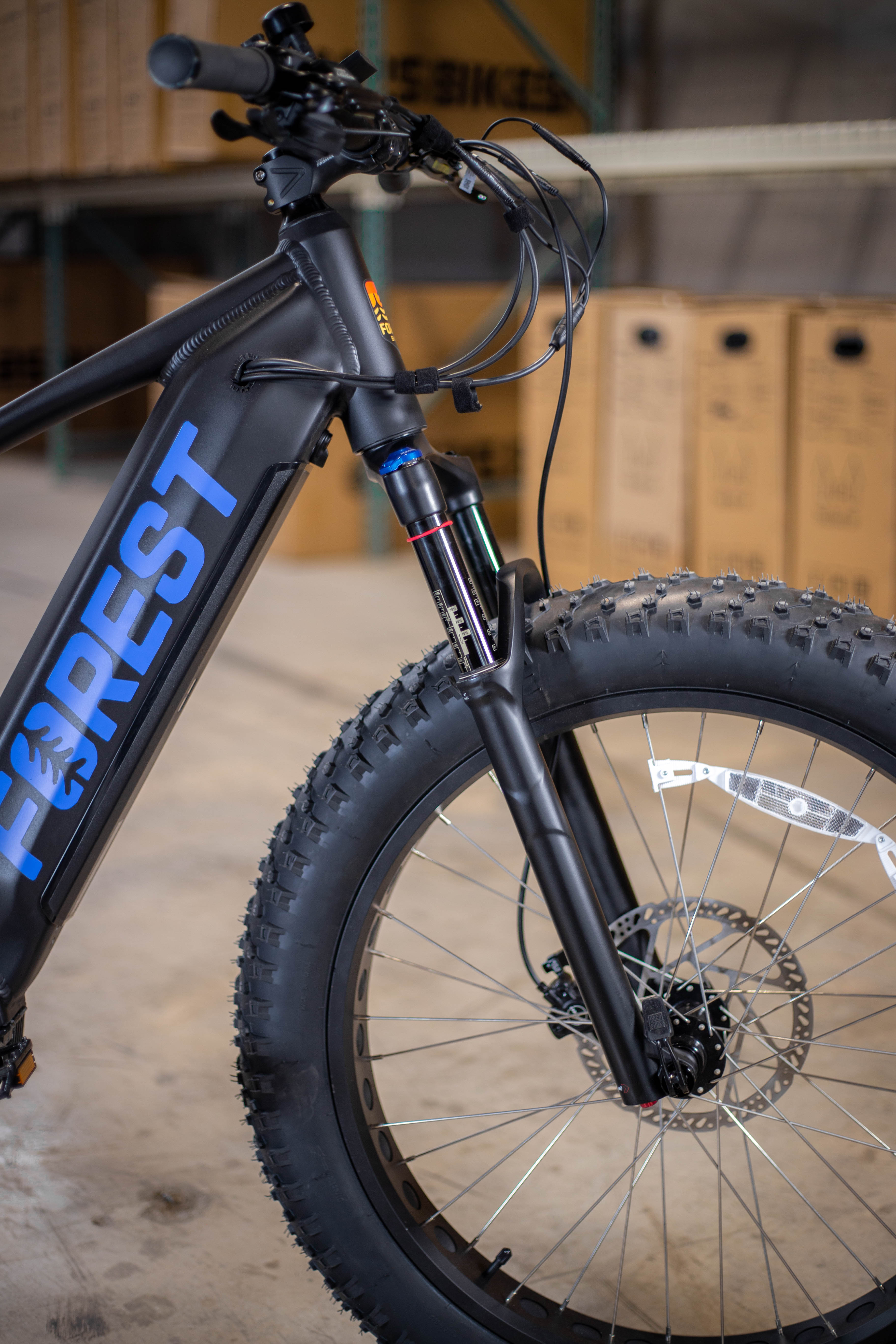 Ride Farther & Faster With Our Long Range Battery
We utilize the latest in battery technology to create long-lasting batteries with superior range. Our battery packs are comprised of 18650 lithium ion cells in series paired with a battery management system to help protect the battery and provide great range for the years of riding ahead. The Rhino battery case features a keyed lock for extra security and is fully removable for charging and storage off the bike. The battery design features an integrated battery level gauge to allow you to easily keep tabs on remaining charge even when the bike isn't powered on.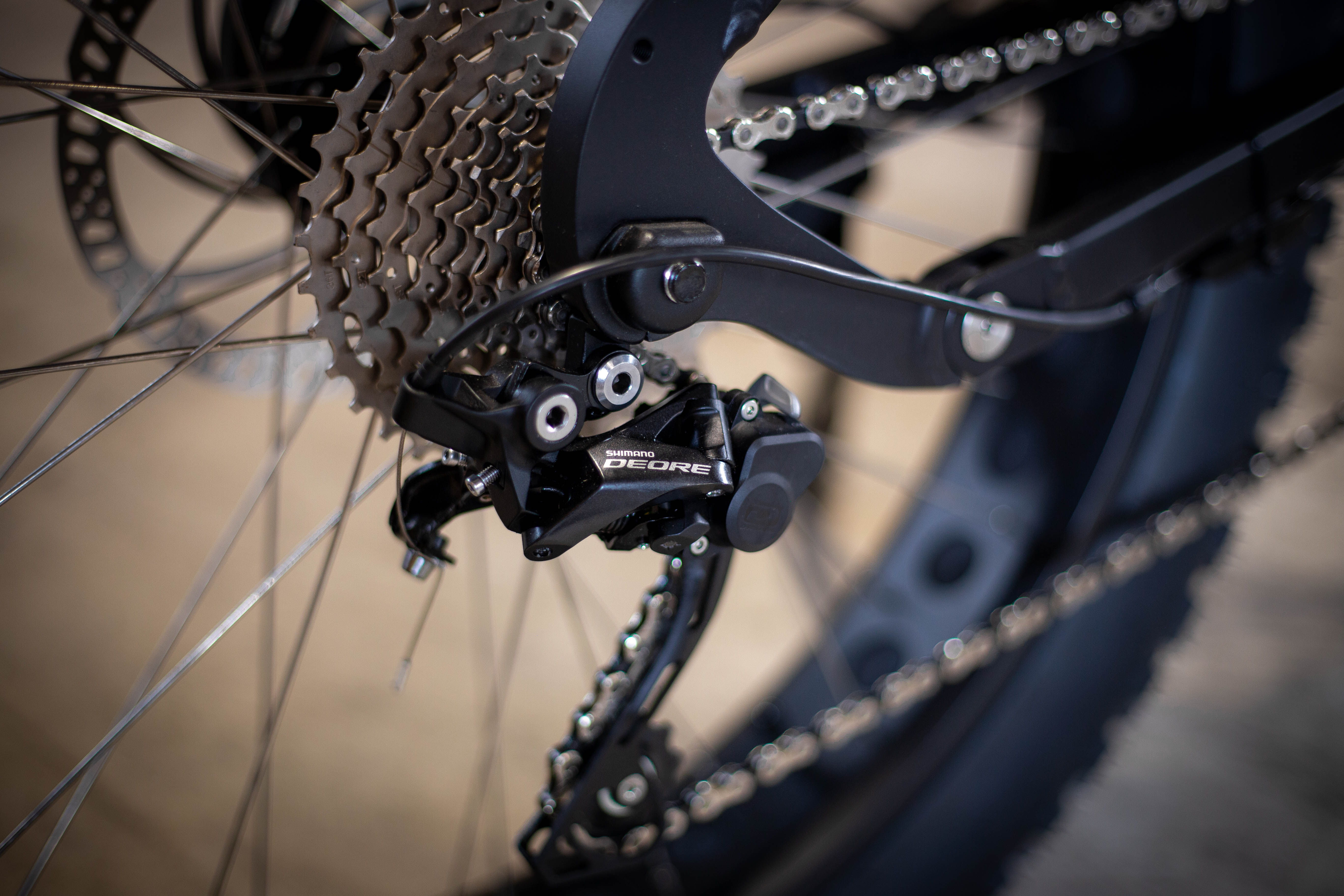 Find Your Ideal Pedaling Cadence With 10-Speeds To Choose From
The Shimano Deore 10-speed drivetrain is the model of choice across various disciplines including XC, all-mountain and enduro. This high performance drivetrain is ideally suited for the Ultra motor and provides a wide-range of gearing to maximize the motor's torque for steep hill climbing ability and fast top speeds. We choose this drivetrain for it's strong, reliable and quick shifting.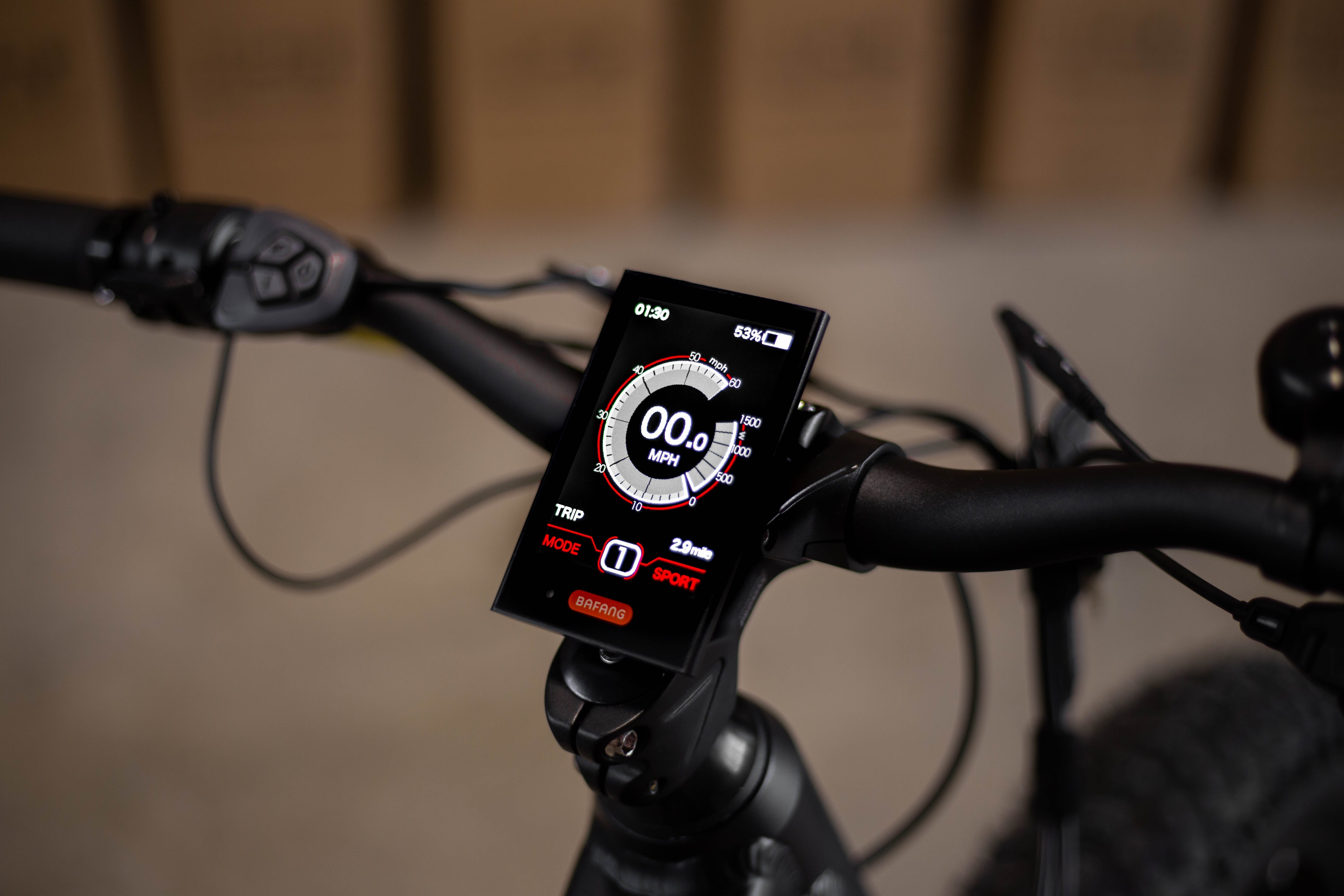 Your Critical Riding Data Is Just a Glance Away
The DC18 digital display from Bafang features 5 levels of assist with your choice of either Sport or Eco mode. In addition to the easy to read assist selection, the display also provides key insights into estimated remaining range, current speed, max speed, motor watt output and more. New for 2023 is Bluetooth connectivity that lets you customize your riding experience and gain even more insight into your riding experience to get the most out of your bike.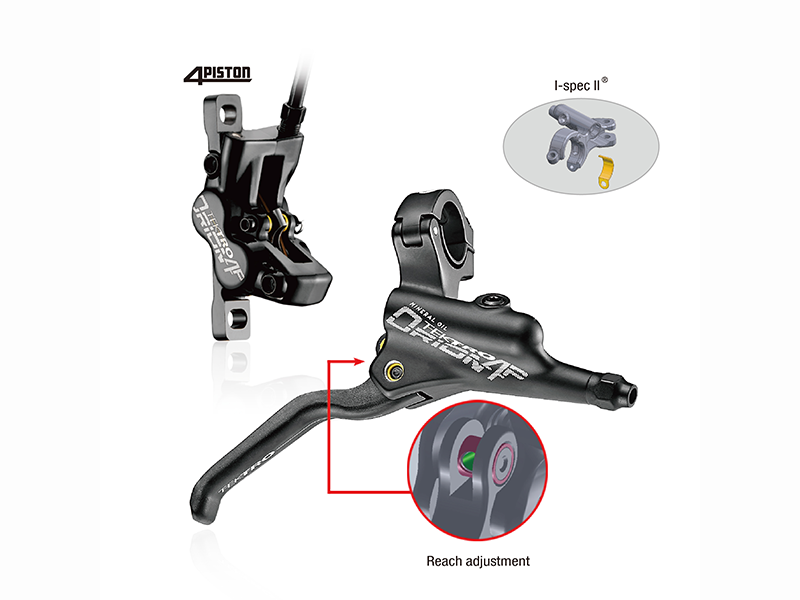 Stop Fast With Four Piston Disc Brakes
The Tektro Orion 745 disc brakes provide rapid stopping power thanks to the 4-piston technology and 180mm rotors. These easily adjustable brakes are chosen for their reliability and performance and are a significant upgrade over most brake systems available on electric bikes in the market today. While they rarely need servicing, when they do they can be easily serviced by most bike shops to bleed the hydraulic fluid and replace the pads as needed.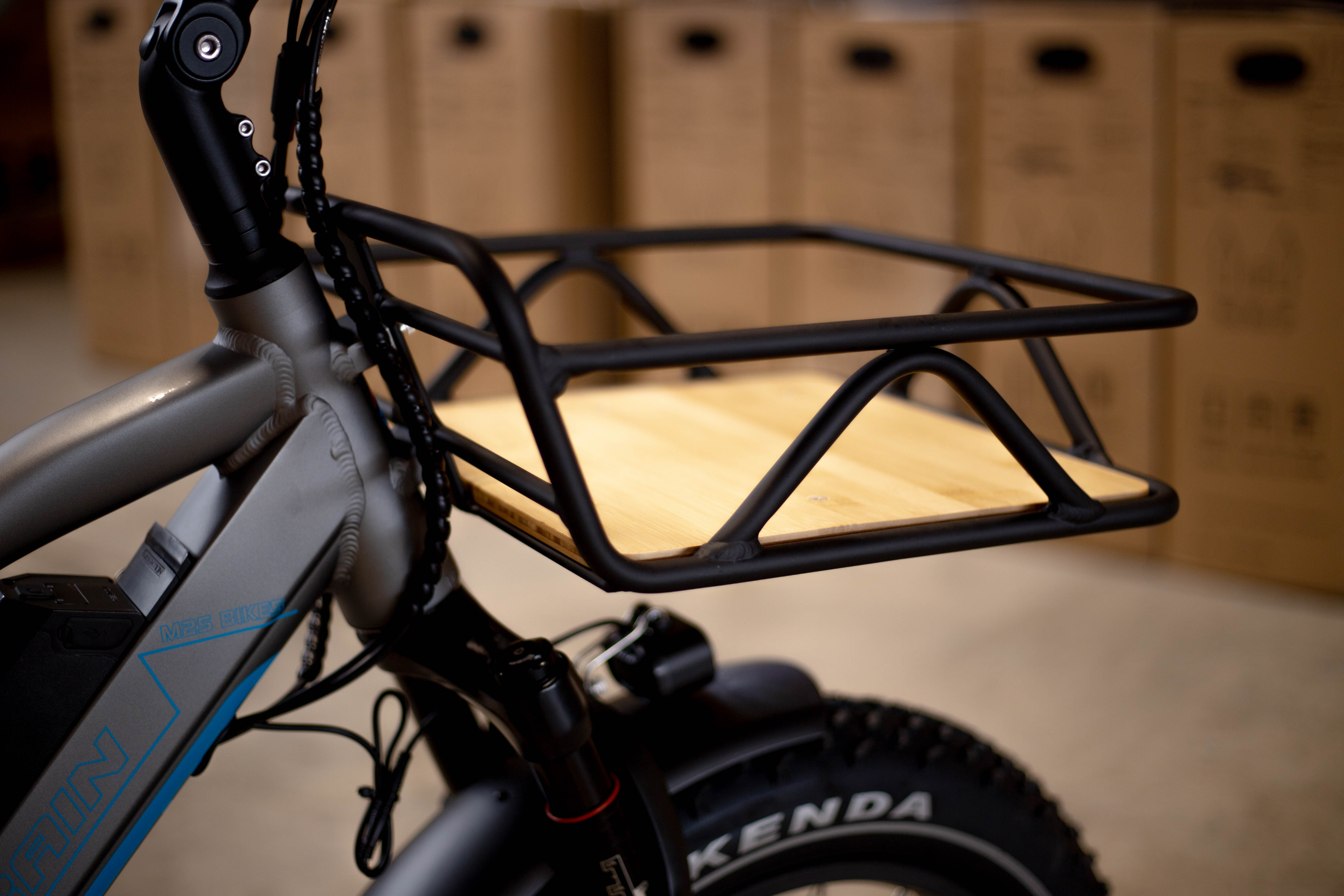 Carry Gear & Light Up The Night
We developed a brand new line of racks, fenders, lights and other accessories designed to fit the Forest Bikes product line. The end result is custom racks and accessories that offer a wide range of improvements. Our new optional lights are brighter and have better features than ever before, while the optional front and rear lights feature brighter LEDs for even more visibility.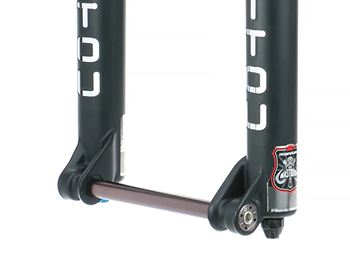 Ride Confidently With Thru Axle Stability
Our Forest Summit Series includes an upgraded thru axle front fork that's new for 2023. The increased stability and rigidity of your wheel reduces the possibility of flexing or twisting under heavy braking, meaning you can be confident in your bike's ability to match the intensity of your ride.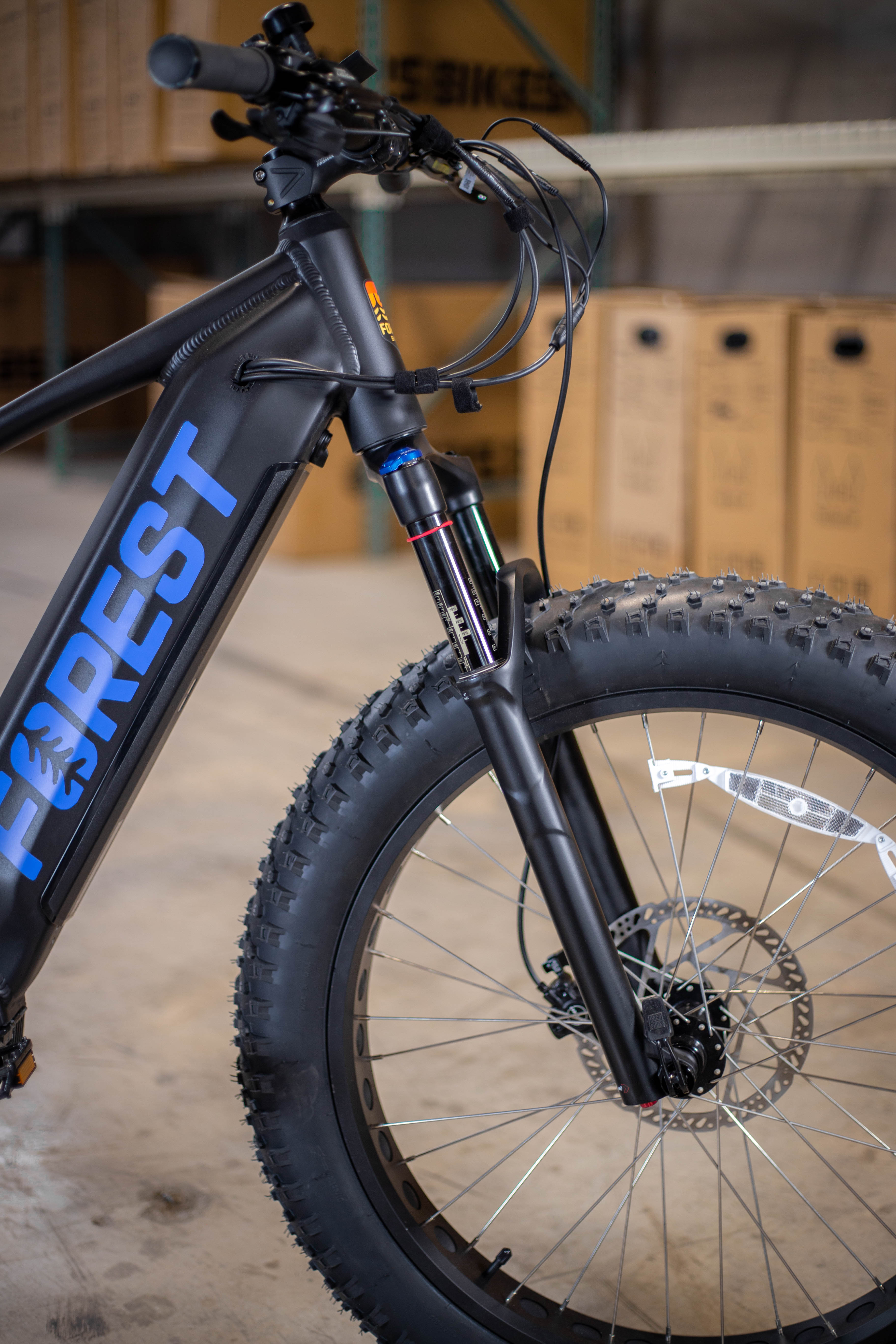 Customize Your Ride To Your Riding Style
The Forest Bikes product line was designed from the ground up with the idea of customization. This includes optional upgrades like a dropper seat post to make it easier to get on and off and also help descend steeper terrain. We are also excited to announce optional suspension fork upgrades from DNM and RockShox are available thanks to the new thru axle front hub.