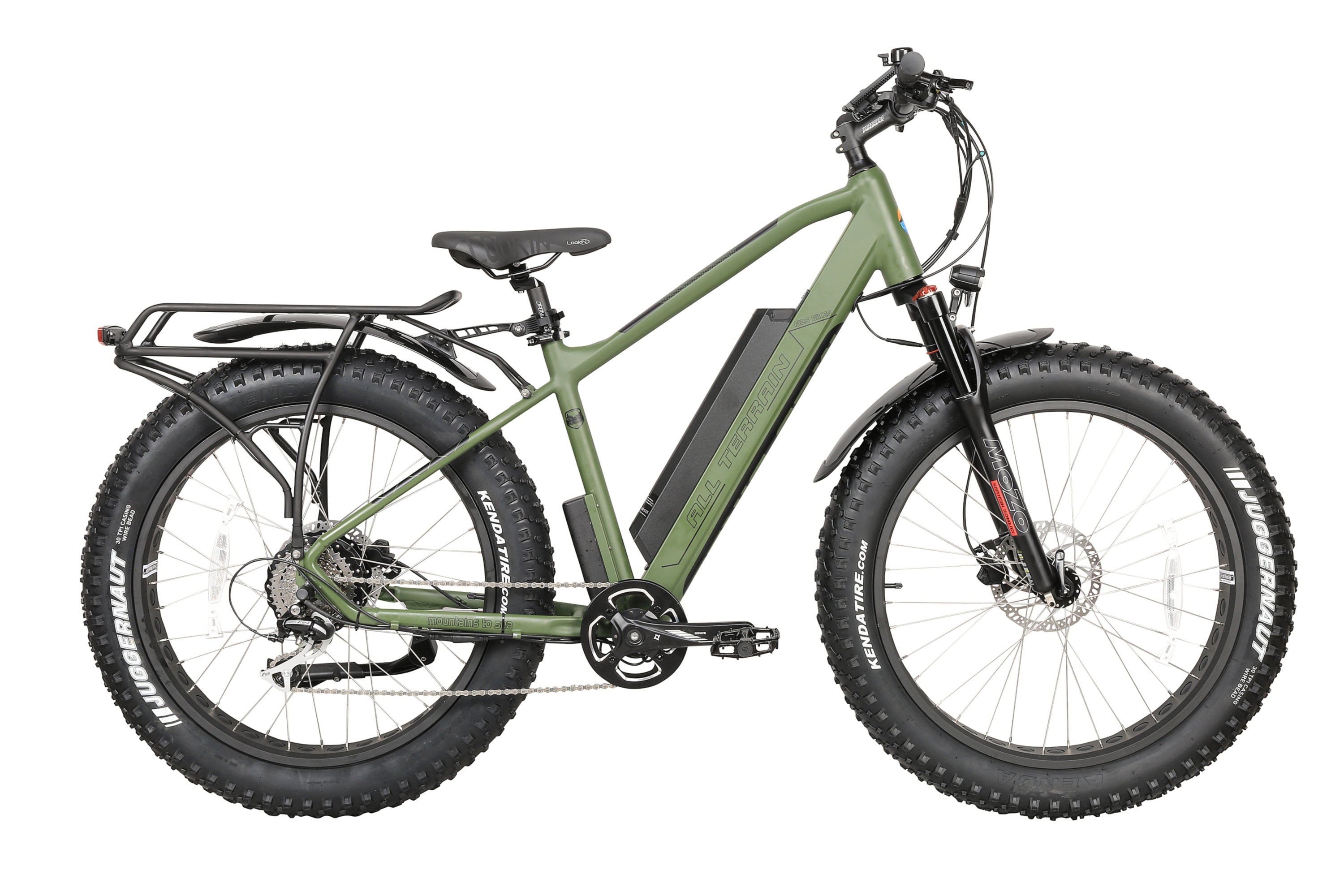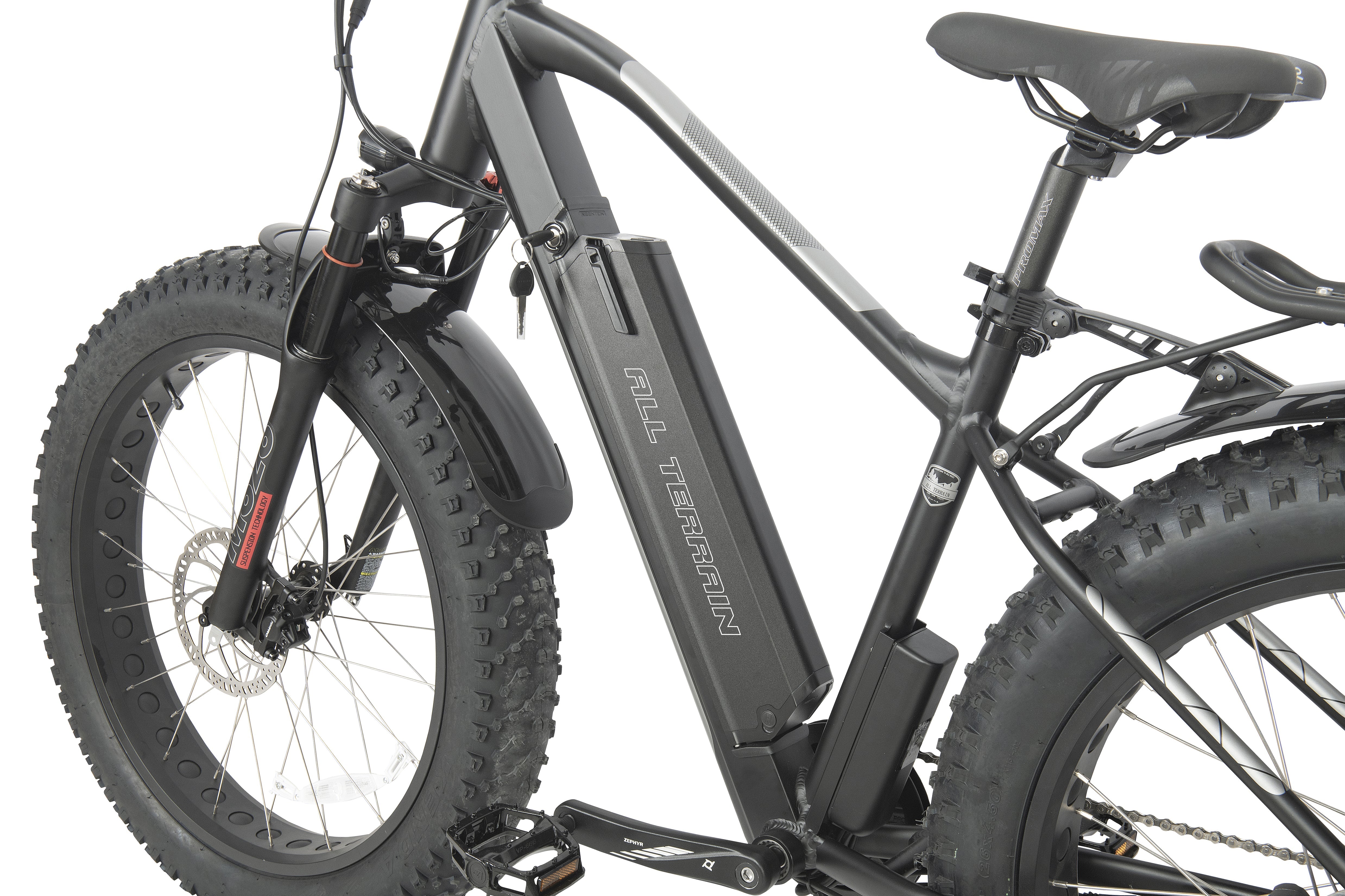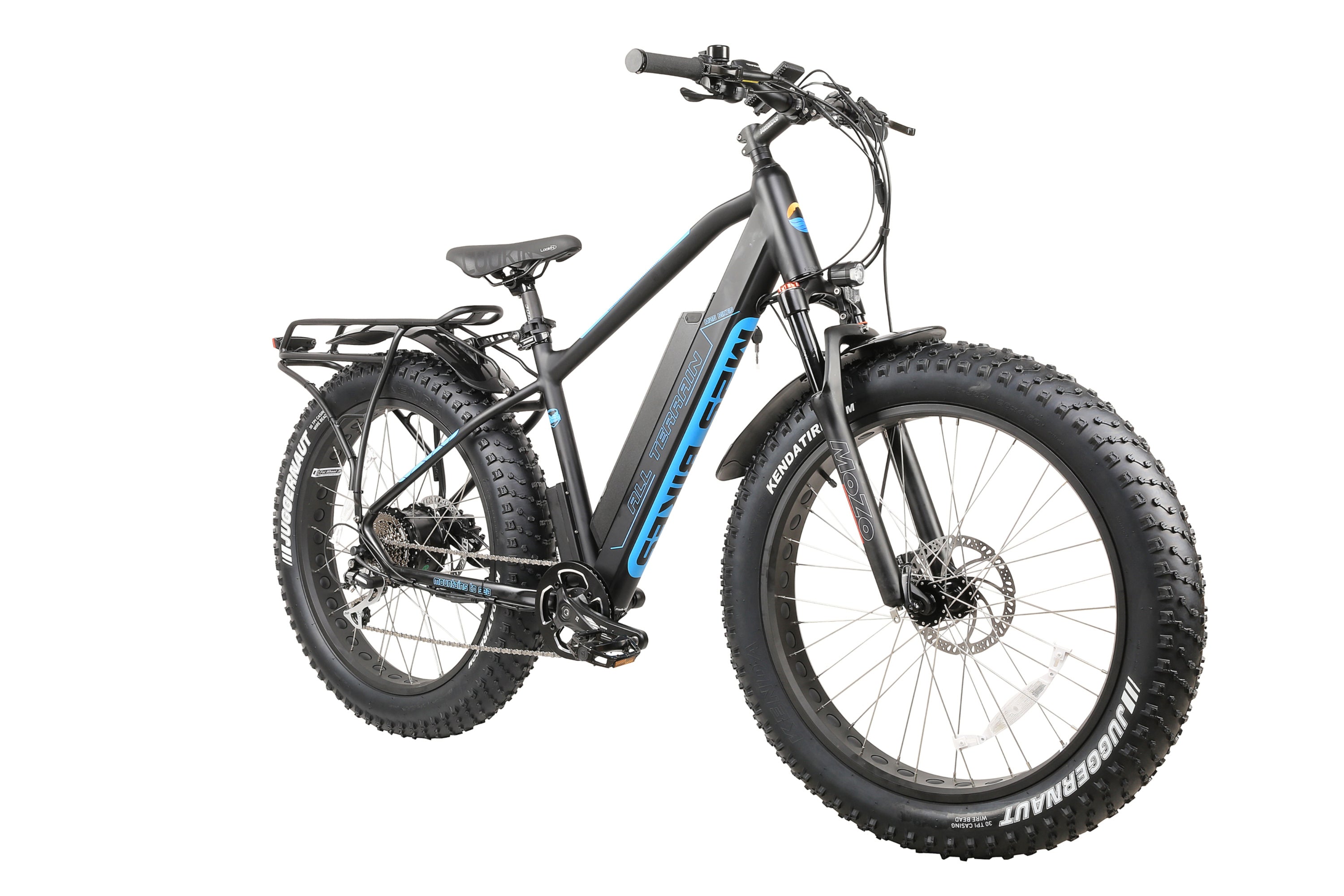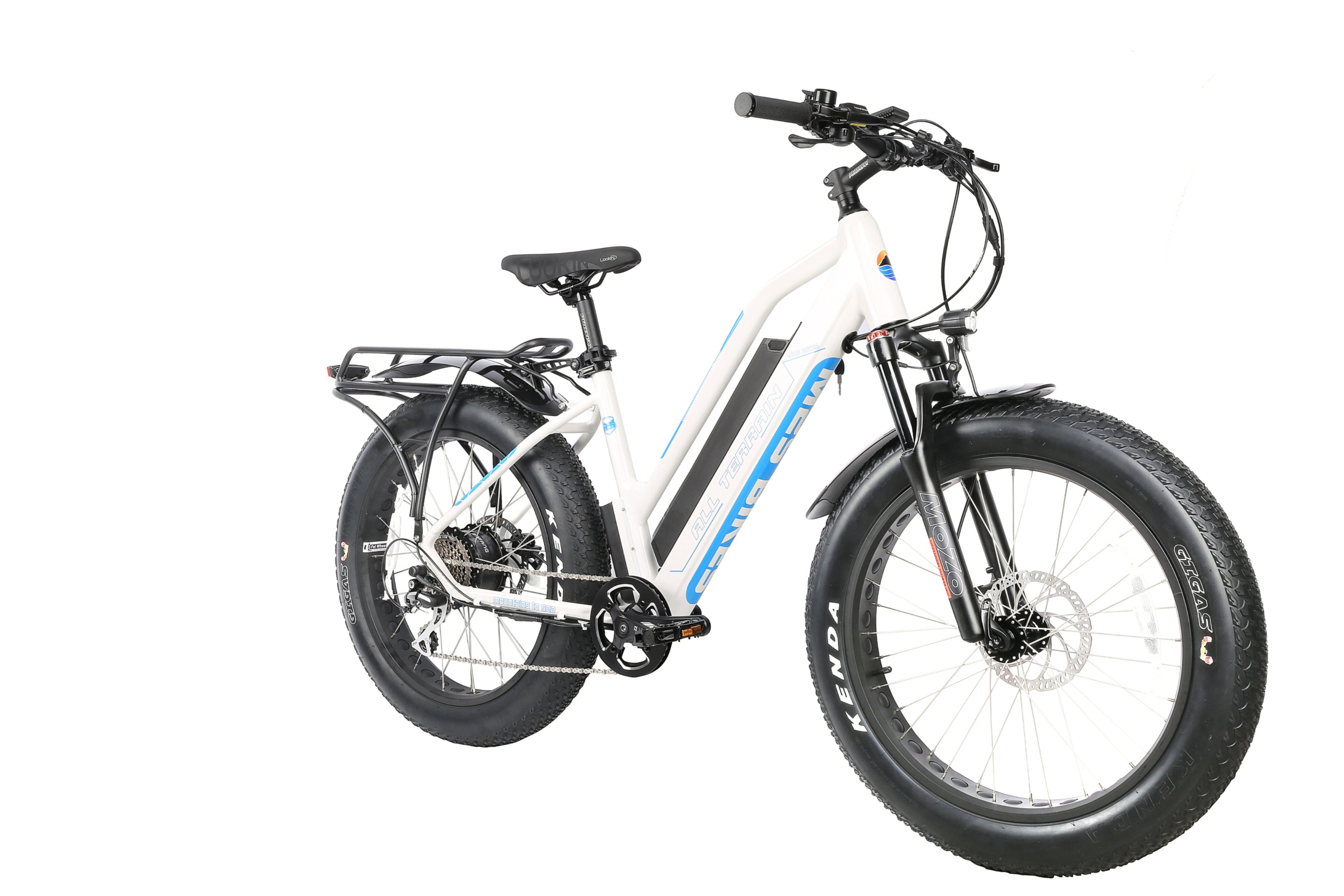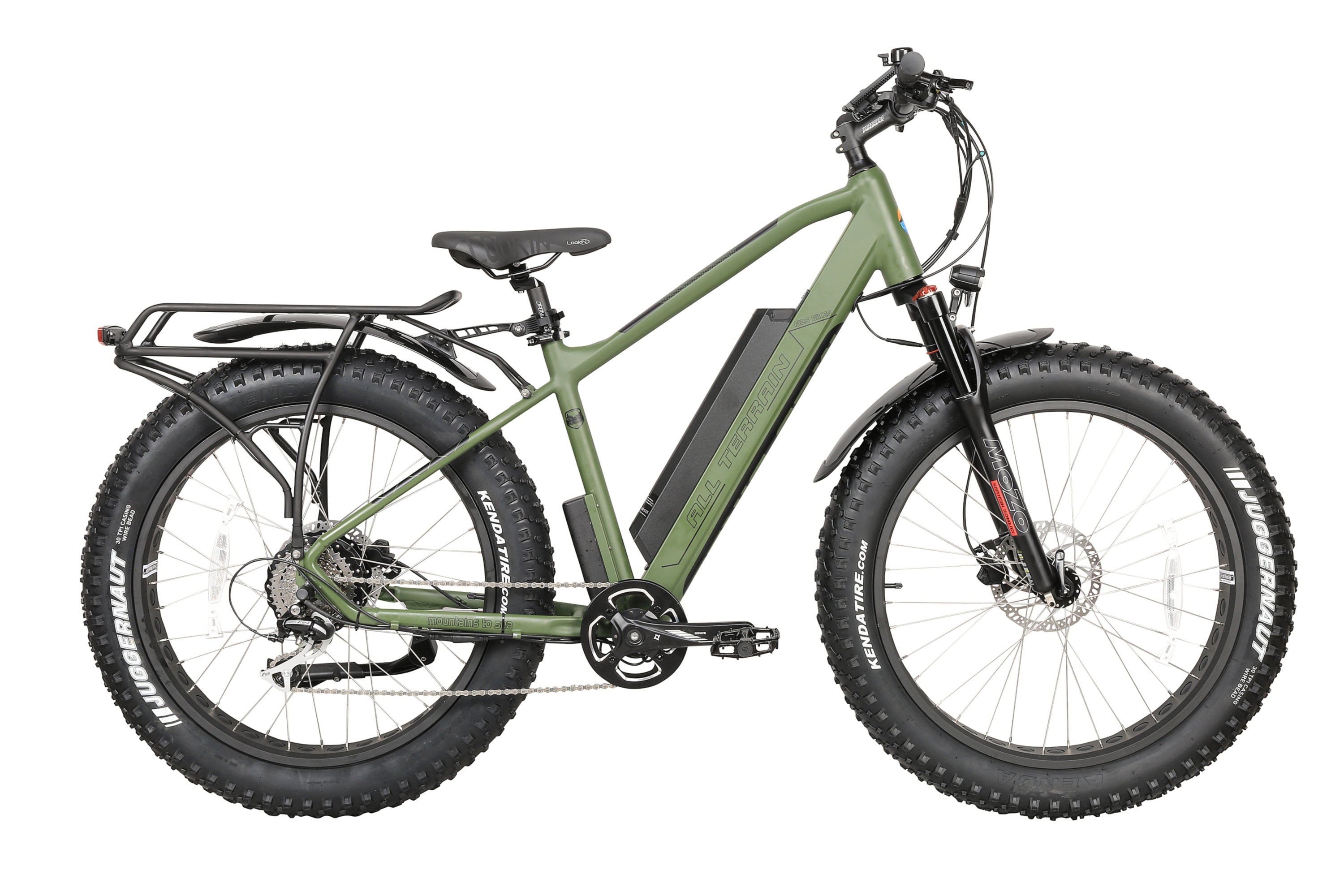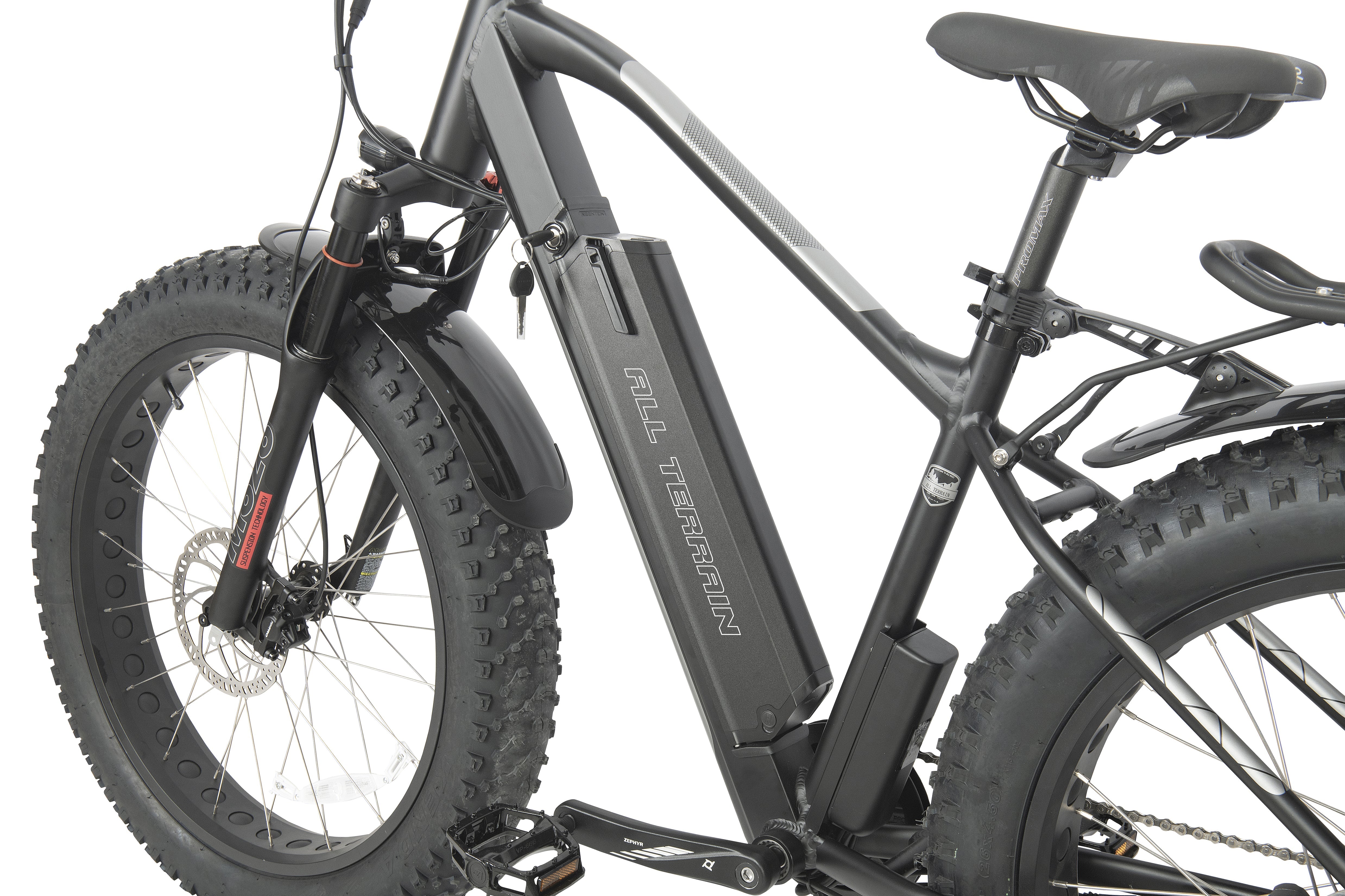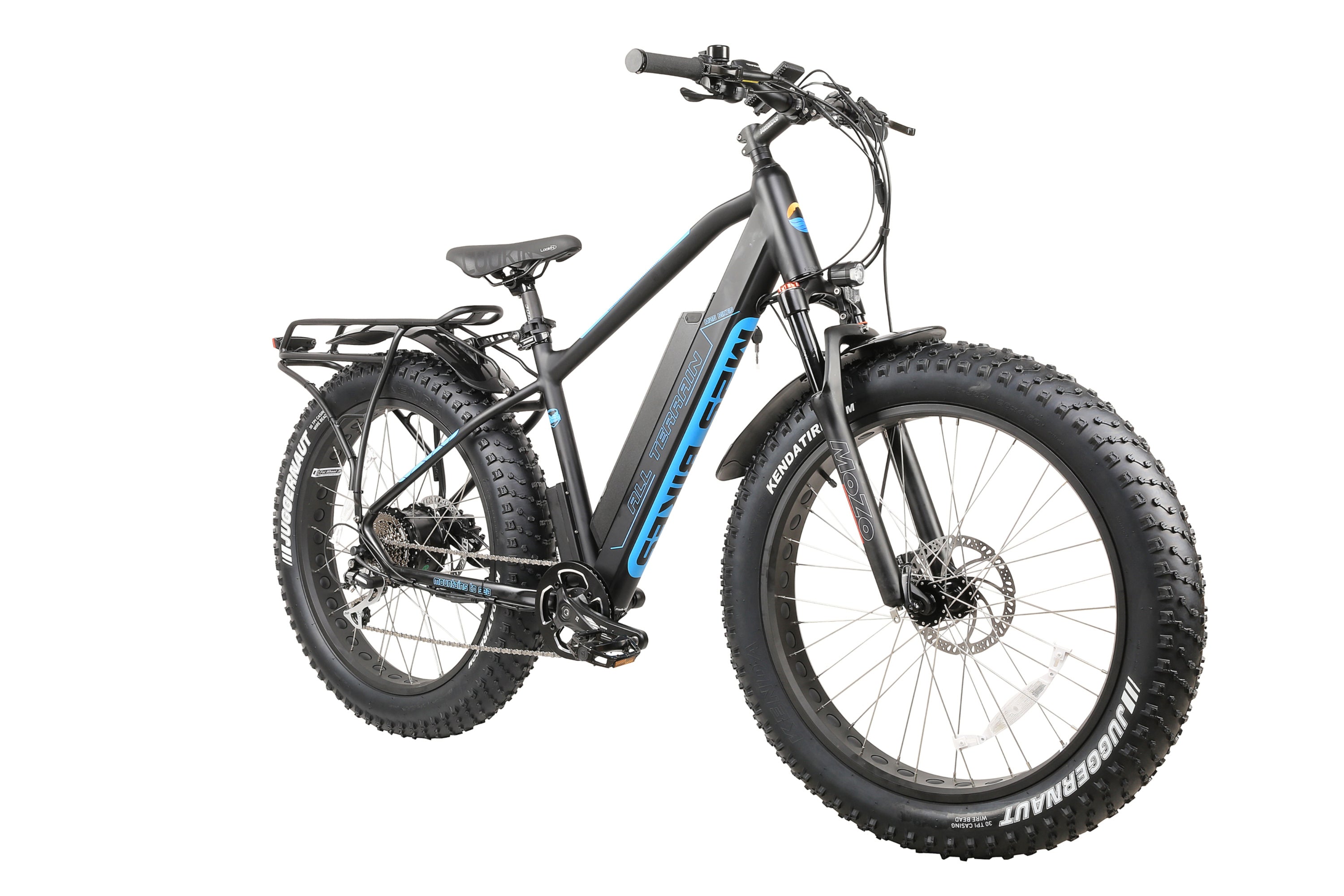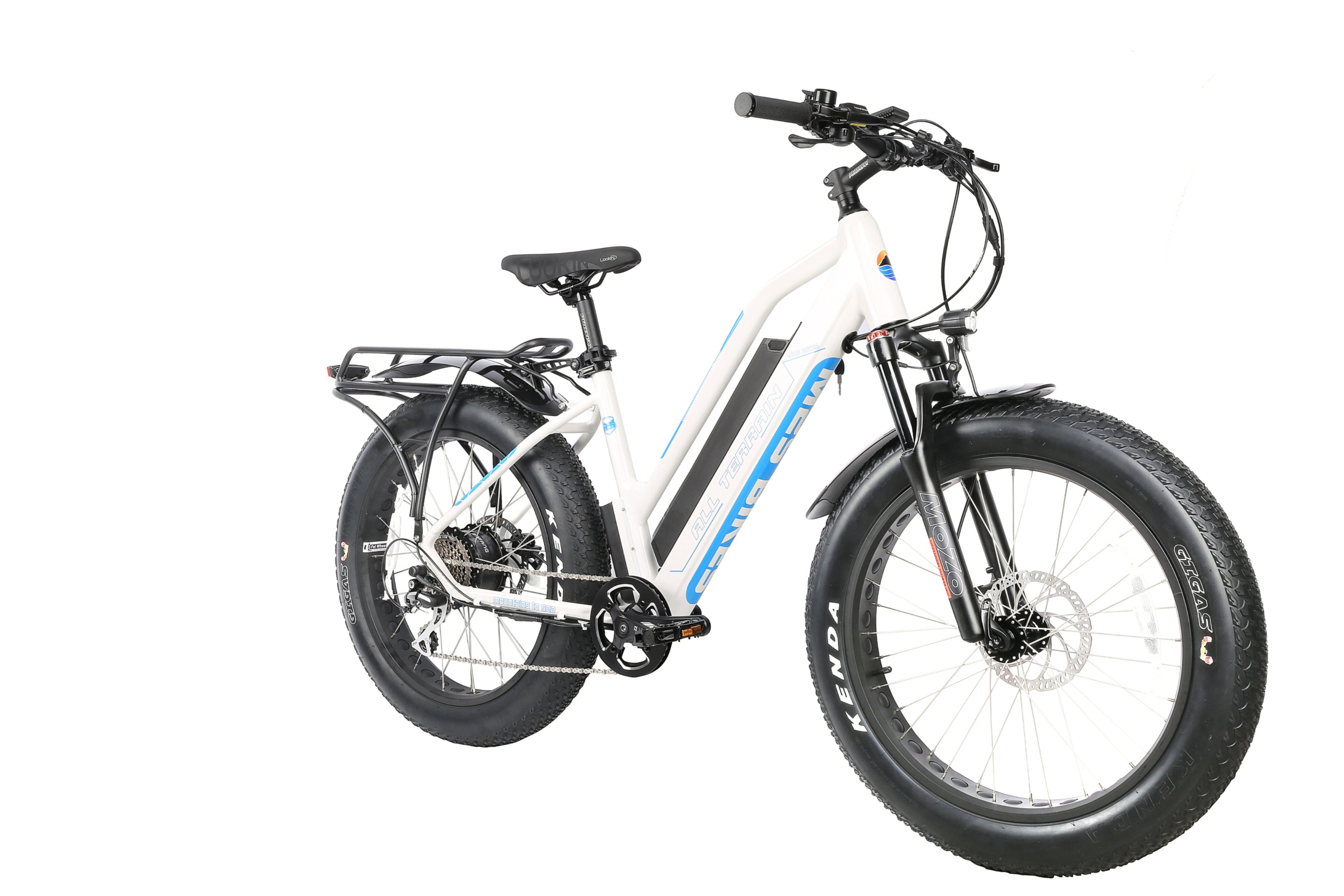 All Terrain R750 HT
The All Terrain HT is a bike that can give you the freedom to roam, the confidence to explore, and the inspiration to seek what was once out of reach. The extra large fat tires navigate the sand, snow, mud, gravel, and dirt roads with maximum surface contact keeping you firmly planted to the ground while traversing the road less traveled.
Our most popular, tried-and-true, rear hub motor electric bike is capable of providing up to 750w nominal power and 80nm of torque. With this much power at your disposal, you'll be able to take on any terrain that comes your way. From the mountains to the sea, and everywhere in between, explore it all with M2S.
All Terrain R750 HT
Our All Terrain HT is ready to take on all types of riding conditions on all sorts of adventures. With the features found on this bike you can ride with confidence over everything that comes your way thanks to the 26x4.5" Kenda Juggernaut tires, Tektro Auriga hydraulic disc brakes, a Mozo Fatman adjustable air fork, and Shimano 8-speed drivetrain. Our All Terrain HT models also come standard with a rear rack to handle your gear, as well as LED tail light.


All Terrain R750 HT Key Features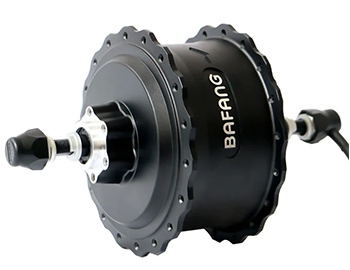 Ride Fast & Have Fun On The Hills
Get ready to take your off-roading adventures to the next level with our All Terrain R750 Series! This reliable, high performance electric fat bike is powered by Bafang and delivers 750 watts of nominal power and 80 Nm of torque. You'll get a fast top speed and still have plenty of low end torque power for quick takeoffs and moderate hill climbs. Our sine wave controller combined with planetary gearing means you'll get excellent reliability, increased battery life, and improved efficiency.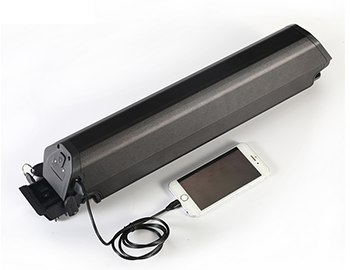 Long Range Riding Has Never Been Easier
We utilize the latest in battery technology to create long-lasting batteries with superior range. Our battery packs are comprised of 18650 lithium ion cells in series paired with a battery management system to help protect the battery and provide great range for the years of riding ahead. The Reention Dorado battery case features a keyed lock for extra security and is fully removable for charging and storage off the bike. The battery design features an integrated battery level gauge, as well as a low-power USB port.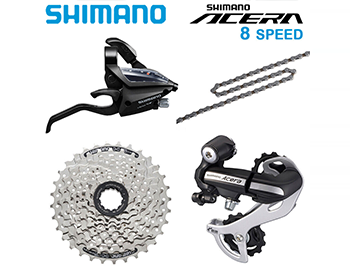 Find Your Ideal Pedaling Rhythm With 8 Gears
The Shimano Acera RD-410 SGS rear derailleur combines style with great value and performance. The drivetrain features include advanced Shimano technologies like Advanced Light Action design and low-friction link pivot bushings for crisp, smooth and reliable shifting. The RapidFire shifters allow for smooth, easy gear changes and the low-friction link pivot bushings provide better shifting response. Also includes oversized 13-tooth pulleys, with aluminum and steel construction for lightweight strength. The SGS long cage design works well with the 11-34 mega range cassette for excellent gear range allowing for faster speeds on flat terrain and better climbing ability on hills.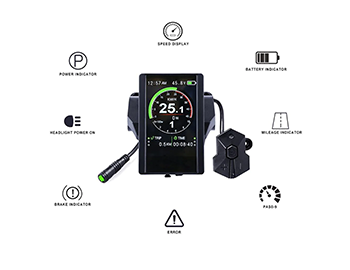 Your Critical Riding Data Is Just a Glance Away
Featuring APT Technologies' outstanding full color display, riders can customize their bike up to 9 levels of pedal assist, offering adjustable speeds to keep you going through any terrain. The built-in speedometer and trip odometer ensures that you're riding efficiently, while the battery gauge helps you monitor your remaining power in case of an emergency. In addition, the thumb-controlled panel is a great way to change gears quickly on those extended rides. Having trouble with draining electronics? The Stealth also features a USB port for quick charging on any device.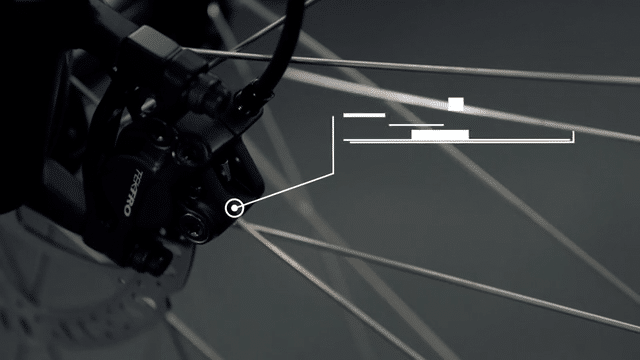 Stop Quickly With Tektro Hydraulic Disc Brakes
The Tektro Auriga E-Comp hydraulic brakes provide rapid stopping power thanks to the 180mm rotors paired with hydraulic calipers. These easily adjustable brakes are chosen for their reliability and performance. While they rarely need servicing, when they do they can be easily serviced by most bike shops to bleed the hydraulic fluid and replace the pads as needed.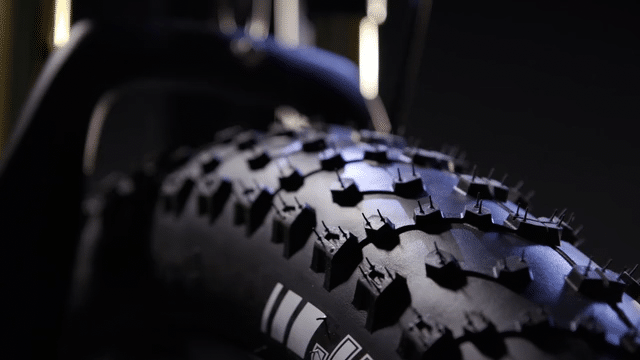 Oversize Off-Road Ready Tires
Conquer tough terrain with ease on the All Terrain Series' oversize 26x4.5" fat tires! Running at a lower pressure, these large and rugged Kenda Juggernaut Sport tires provide extra suspension action to keep you comfortable while conquering any surface - no matter where your adventure takes you; rest assured that reliable traction is always within reach thanks to their aggressive tread pattern and durable design.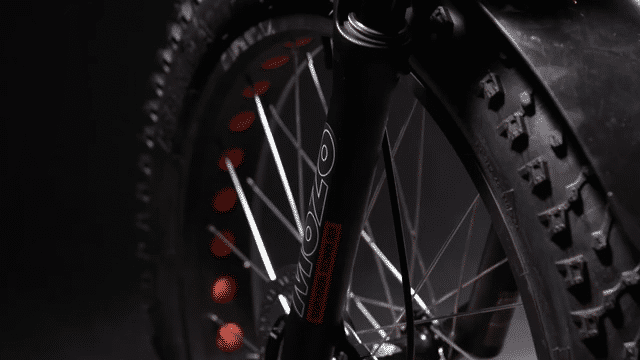 Ride Off Road In Comfort
The Mozo air sprung suspension provides 100 mm of suspension travel to help soften the ride and provide better performance off road. The fork features a lockout lever to allow quick adjustments during a ride to stiffen or soften your fork, while more fine tuning can be performed by using the air adjustment valve with a high pressure shock pump to dial in the performance for your weight and riding style.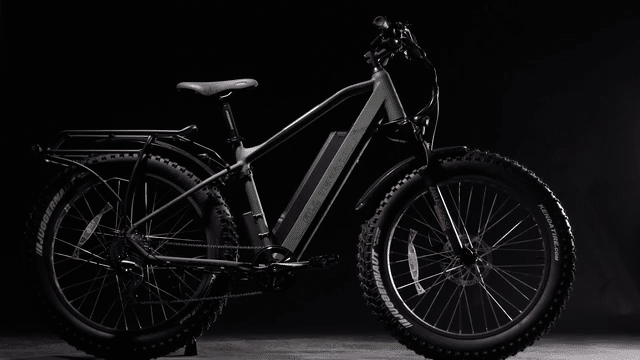 Other Features
The All Terrain HT also features wired front and rear LED lights, a gel padded Selle Royale saddle, Promax stem and seatpost, Prowheel crankset with integrated chainguard, quick release front axle, two USB ports and numerous other features.